User experience
Here you can enable some of the useful features to enhance the experience of your users: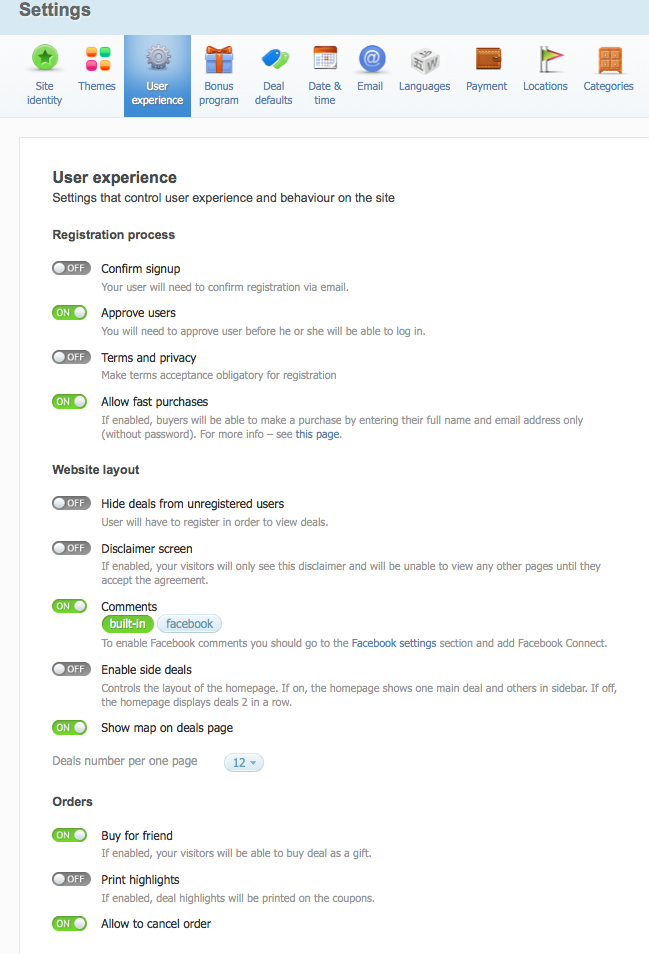 Confirm signup – upon signing up user will be getting an email with the link, that s/he will need to follow to be able to sign in. This way you can be sure that users are using valid emails when registering.
Approve users – you will manually approve through admin panel everyone, who registers. They won't be able to sign in until you approve them.
Terms and privacy – new user will be asked to accept terms and privacy when registering an account on your website.
Allow fast purchases – allows buyers to make instant purchases by entering full name and e-mail address only.


Hide deals from unregistered users – users will be asked to sign in before they can see the deals and also subscribers will not be able to subscribe for the newsletter if such email address is not yet assigned to a user on the site.
Disclaimer screen – users will have to accept your terms before they get in, if they choose to click "No", they'll be forwarded to Wikipedia.
Comments – allows your users to comment on a deal. There are 2 options - built-in comments and Facebook ones (to be able to use Facebook comments you first need to setup Facebook application).
Enable side deals – when turned off all active deals appear on the main Today's deal page 2 in a row, when it is on – one main deal is shown on Today's deal page and other deals are shown in the sidebar.
Show map on deal's page – lets you choose whether you wish Google map of the vendor's office address to appear on the deal page.
Deals number per one page – sets the amount of active deals to be shown on one page when option Enable side deals is off, if more deals than this number are active, the pagination at the bottom will appear.


Buy for friend – an option that allows to purchase deals as a gift to your loved ones (will work for Services and Electronic vouchers deals only).
Print highlights – turn it on, if you wish the deal highlights to appear on the coupon.
Allow to cancel order – users can cancel their orders on the deals that are not tipped yet.