Referral program
The only purpose of referral program is bringing new users, simple as that. By getting their friends signing up users get certain amount added to their balance, which they will later use to purchase coupons on your site. So you'll be sharing the profits with your users for advertising your site.
Referral Program can be controlled through Bonus program tab of Settings page in Admin section. It provides you with a number of settings to adjust its functioning to your business model and current marketing strategy.
If the program is enabled on your site, every registered user has a unique referral link, which can be found in My Info section or by clicking the referral button in the top right corner when logged in. This page will show your users a link, a FAQ and some ready-made options to spread it. All they need to do is just follow the links. The bonus they get will be spent on purchasing items on your website.
How long does the referral link work?
When someone follows the referral link a special cookie is added to their browser. It will be staying there for a period that was set in Activity period field of a referral program, unless the referred person manually clears the cookies, communicating the fact of one user being referred by another one to the system. The rewarding process takes place only when the first purchase has been made by the referred person. The amount of bonus received by referrer is defined by the current settings of referral program – Referrer bonus and Bonus kind set by the admin.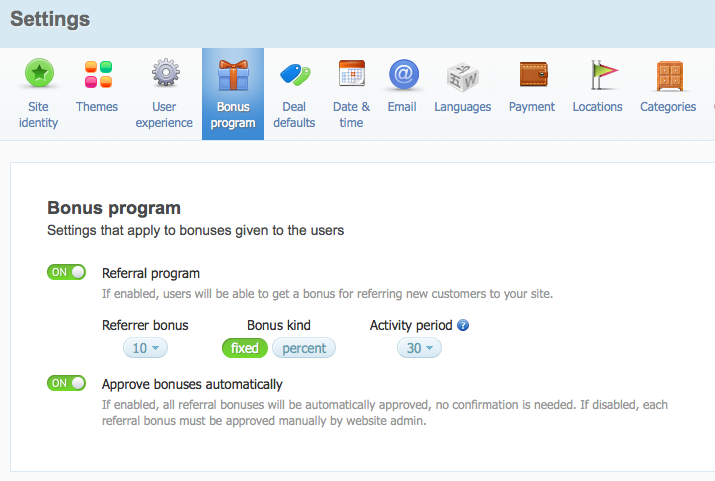 Referrer bonus is to set the amount of bonus to be granted. By default it is $10, but you may enter any other amount.
Bonus kind allows to select the type of referral bonus – fixed amount of money or percentage from the order made by the referred person.
Activity period the number of days within which the referral has to make a purchase for the referrer to receive a bonus.
How the bonuses are generated?
The bonus for referral is generated automatically by the system. Though, there are two ways to control it – the bonus can be pre-moderated by website admin (to prevent fraud) or the bonus can be automatically deposited to referrer's balance.
If you want to fully control the process of issuing referrer bonuses, you should disable option Approve bonuses automatically. This way when new bonus is generated, you will receive a confirmation e-mail and you should approve or reject this bonus through Referral payments page in Admin section.
If it is not essential for your business to manually control each bonus, you can enable option Approve bonuses automatically and once generated – bonus will be deposited to referrer's balance without moderation. You will still receive a notification to be informed about bonuses issued by the site.