Promotional campaign
The main goal of promotional campaign is to advertise the business by giving extra discounts towards some deal that a certain website is running. This tool is available on Getsocio, so you can easily create a marketing campaign to attract more customers.
Each promotional campaign gives some discount off within certain timeline duration. If you are ready to start with it, you may go to the Promotions page of Admin section and click New Promotion.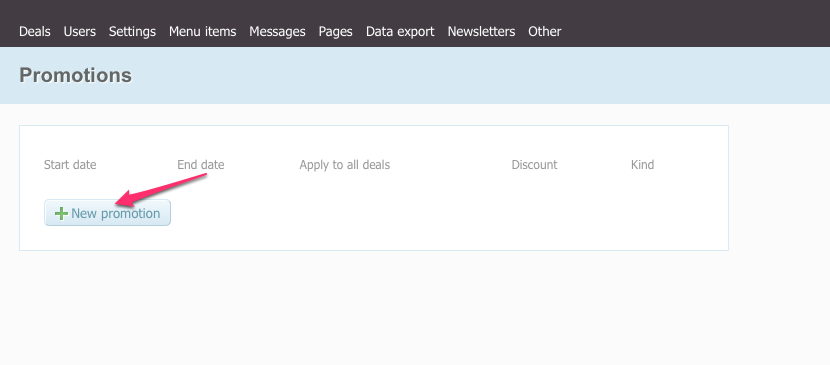 There you will see several options that will help you to setup promo campaign according to your business needs:
Apply to all deals – gives possibility to apply the campaign to all deals that run on your site or choose only certain deals. In case you decide to apply the campaign to some selective deals, you would need to uncheck this box and select preferred deals in the field Choose deals.
Start date and End date – sets the time frame for the promo campaign to be active.
Discount – the actual amount off that the user will get towards the deal.
Kind – the type of discount. It can be a fixed amount or percent from order cost.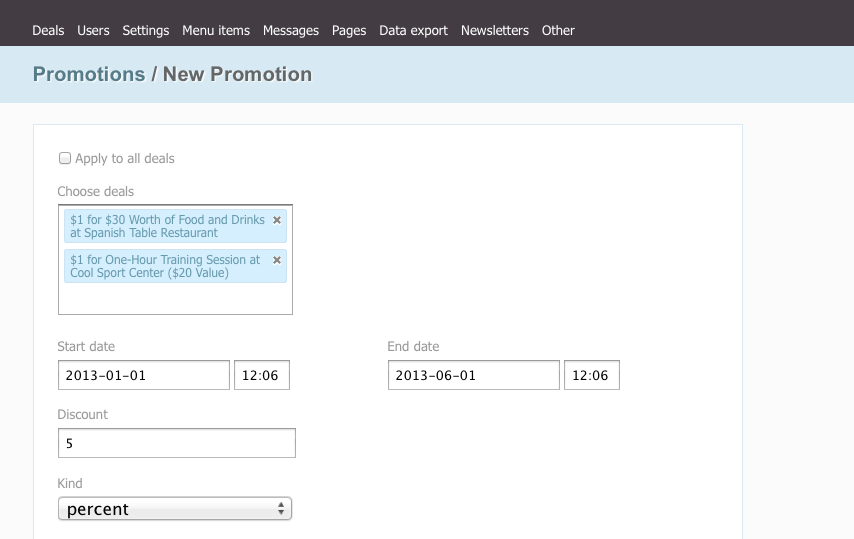 After having setup all options it is time to add actual codes that will be used by customers to get discount. Promo codes should be alphanumeric codes. You may use easy-to-remember or hard-to-guess combination of symbols according to your purposes and preferences. To add code you should click Add promo codes button, then you would need to submit a list of codes in the appeared field. Please make sure that each code is on a separate line. Both uppercase and lowercase will work just the same way.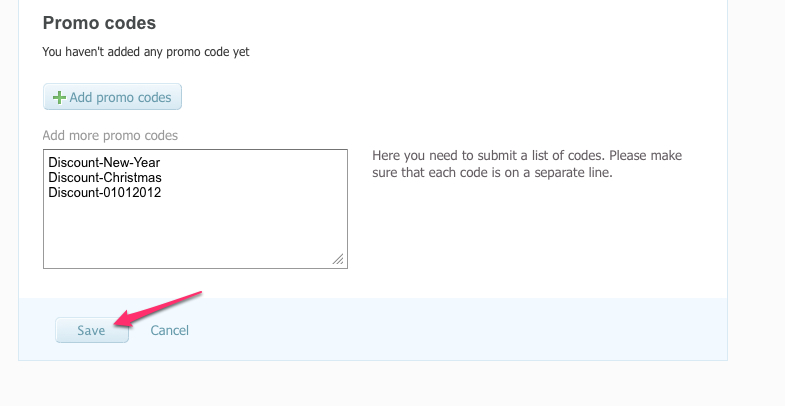 When everything is done, do not forget to save the changes. The new promotional campaign is successfully created.
The already made promotional campaign can be easily modified. Having chosen a needed campaign, click it and you will see its details. All these settings may be modified with Edit button. Moreover, you can also manage existing or new codes from the promotional campaign panel. Each code has the following parameters:
Code – value of the code itself;
Count – parameter to set the number of times the code can be used. If this number is bigger than 1, then this means that the code can be used multiply even by the same user. If you want the code to be used only once, set count to 1 for it. By default all codes have count set to ∞;
Orders – this cell shows the number of orders placed using current promo code. It is also a hyperlink to the page with the list of these orders.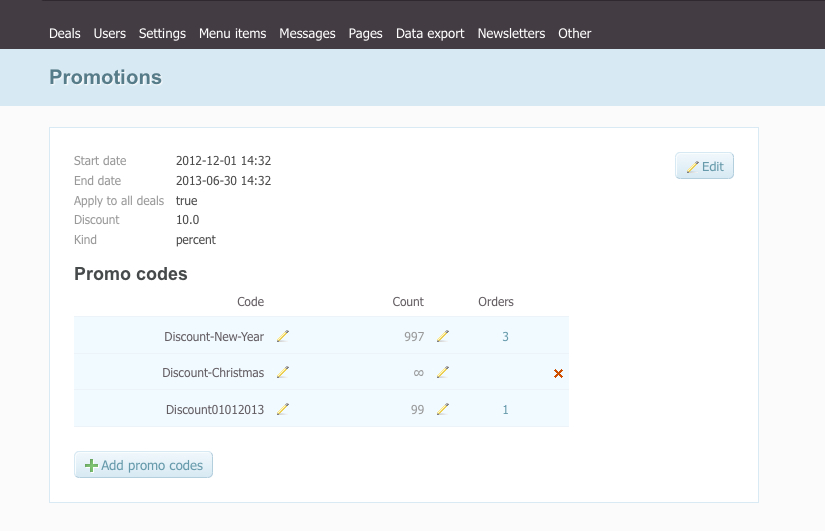 Promo campaigns are for sure good marketing technique, however having only discounted codes is not enough. On your site you should have attractive deals towards which the codes can be used, because the marketing campaign makes a little of sense without good deals.
Can the promo code discount be split?
Actually, no. Say, you have advertised a promo code of $10 value. If the user tries to make a purchase using this code towards the deal of, for example, $5 cost, then only half of the promo code will be used by the user and the rest $5 of discount will be lost.
How long should the promotional campaign last?
Technically the promo campaign can be set to last for years or only couple of days, but practically it is better to synchronize it with the advertising campaign you run. You can always extend its duration period or if you do not want to provide this discount any more, you can manually "expire" the promo campaign by setting its "end date" to the past.
What is the best way to advertise my promotional campaign?
Just anything you can think of. These can be TV, Internet or newspaper advertisement, handout leaflets in public places, direct mail, email, social media, banner widgets and many more. You can also employ a marketing company who will choose the best way to spread the word about your site. There are also a number of websites that aggregate the discounted codes of different online stores, giving access to them to buyers in bulk for a monthly fee or free of charge. You may try to initiate partnership with them to get more customers.
What kind of discount should the promo campaign have?
On your site deals are already heavily discounted. That is why the promo code discount should not be too big, the best would be 2-5% off the amount.