Tuesday, June 11, 2013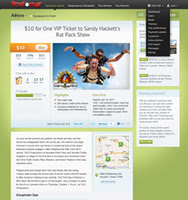 Getsocio.com, an online commerce platform for daily deal entrepreneurs, expands the range of payment options for deal payments. 
WorldPay, one of the leading providers of electronic payment processing solutions, is now available for daily deal websites developed on Getsocio software platform.
Getsocio provides software solutions for building daily deal websites internationally and serves customers in the United States, United Kingdom, Australia, New Zealand, Germany, France, Italy, Netherlands and other countries. The geographical diversity of customer base leads to the necessity to employ a broad range of payment solutions for supporting convenient payment methods regardless of location of the customers. The list of
payment options
supported by Getsocio includes major payment systems, such as PayPal and Authorize.net, along with less known Bluepay, Mister Cash, Payfast, PostFinance and others.