New email design and custom newsletter feature
Tuesday, August 23, 2011
We all know how important is the newsletter for a daily deal site, being its major traffic driver and the main connecting link between the site and its subscribers. You might have already noticed our new eye-candy design of email template and have stumbled upon the Newsletters page in the Admin section. If not, these two newly rolled out features are definitely worth checking out.
Email template now has the logo of your site, date and time in the header and a link to "contact_us" form in the footer, which releases you from the necessity to buy mail@yoursite.com email address. Needless to say that all wording can be changed via Messages in Admin section. A top of that you can always check the newsletter before it has been sent out by using "Email preview" link available on a saved deal next to "Edit" and "Orders".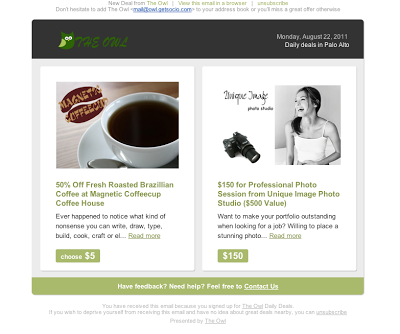 Newsletters page lets you manually send out an email campaign if you believe that some deals should have one more blast before closing or the fresh one should have an individual newsletter. This new functionality lets you waive the "locations" and "categories" relations you set when creating the deal e.g. you can publish deal in one location and send the newsletter on that deal to the subscribers of another one by manually assigning it. Check our guide for more information and tips on this new feature.