The trick that will boost your sales!
Wednesday, August 13, 2014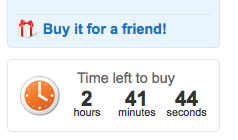 Have you ever been on the hook of a marketing ploy? Most of shoppers have and this happens daily.
The main purpose of such tricks is to bring more customers to the business. This can be both - online and brick-and-mortar shopping.
We have recently integrated a feature that we call "buy now or never". Here is how it works: for the deals on your site that last for several days or even weeks, you can hide days count from the timer on the deal. This way each day the deal will look like last day special and will psychologically influence the customer to make the decision to purchase it now.
How this will be helpful for me?


People tend to make their decisions spontaneously, especially when it comes to spending money. Sometimes too much space to think it over can result to changing the mind, so artificially "limiting" the time available for a purchase will lead to more sales.
If you are interested and would like to try out how this will influence your traffic, you can enable option
Hide days on deal timer
under Deal defaults of Settings page in Admin section of your site.