Spanish translation
Wednesday, August 17, 2011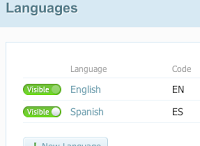 Probably you already know that incredible flexibility of Getsocio platform lets you quickly and easily edit all the interface wording for users, including buttons, and also re-write the emails sent out by your site. This can be done using our Messages functionality, which also permits you to translate your site into any language.
For Spanish we went an extra mile and added a built-in translation. So now it takes no time to get your site in Spanish. You only need to turn on Spanish language in Admin section and have a Spanish version of your site instantly.
You can run your site in Spanish by making English language invisible or keep it bi-lingual if you choose. Don't forget how flexible Getsocio is: you can still edit all Spanish text to make it more expressive or tailor it to a specific model of your site. All that will let you dive into hispanic market and broaden your audience.
Go ahead and give it a try, let us know if you have any thoughts.
¡Buenaventura!