Selling on Amazon vs eBay: Pros and Cons
Friday, May 19, 2017
Prospering in the information age full of radical changes means to be ready to learn, adjust, manage information, and react quickly and flexibly. The Internet has changed traditional selling models tremendously. With the wide dissemination of any information, it is the customer who is now in charge of prospecting via search engines. But there is still one thing that remains unchanged in selling.
All businessmen know that you may be a salesman of the year or even a wizard and magician of sales, but without high client traffic, all these skills are useless. Although ecommerce makes its own rules in selling, it all comes down to acquiring new customers.
Another way to get new customers online
The story of a thousand and one ways of selling products or services online is not without internet services that bring sellers and buyers together. There are websites that sell everything from cars to dried fish gills to everybody without owning any inventory. Such a business model is known as an e-commerce marketplace.
All marketplaces' transactions involve three parties each of which benefit from all advantages of such websites.
It's clear how marketplace operators, for their part, benefit. They charge sellers different fees, for example, for listings on their sites, monthly subscriptions, sales commissions.
As for online shoppers, it is easier for them to buy on online marketplaces. People save time and money making trusted purchases on online marketplaces with the broadest choice possible for products or services they need while traveling, or playing video games, or spending weekends with family and friends, or building wooden architectural models, or anything.
What about a third party? Marketplaces increase the efficiency of any business by saving work time, creating of healthy competition, ensuring accessibility for any business from anywhere in the world, savings in advertising campaigns, and most importantly, they can drive traffic to standalone ecommerce websites. This is why every online store owner should pay attention to online venues.
Let's discover pros and cons of selling on online marketplaces and take an example of two brightest representatives - Amazon and eBay. Why is Amazon vs eBay comparison extremely relevant for online retailers today?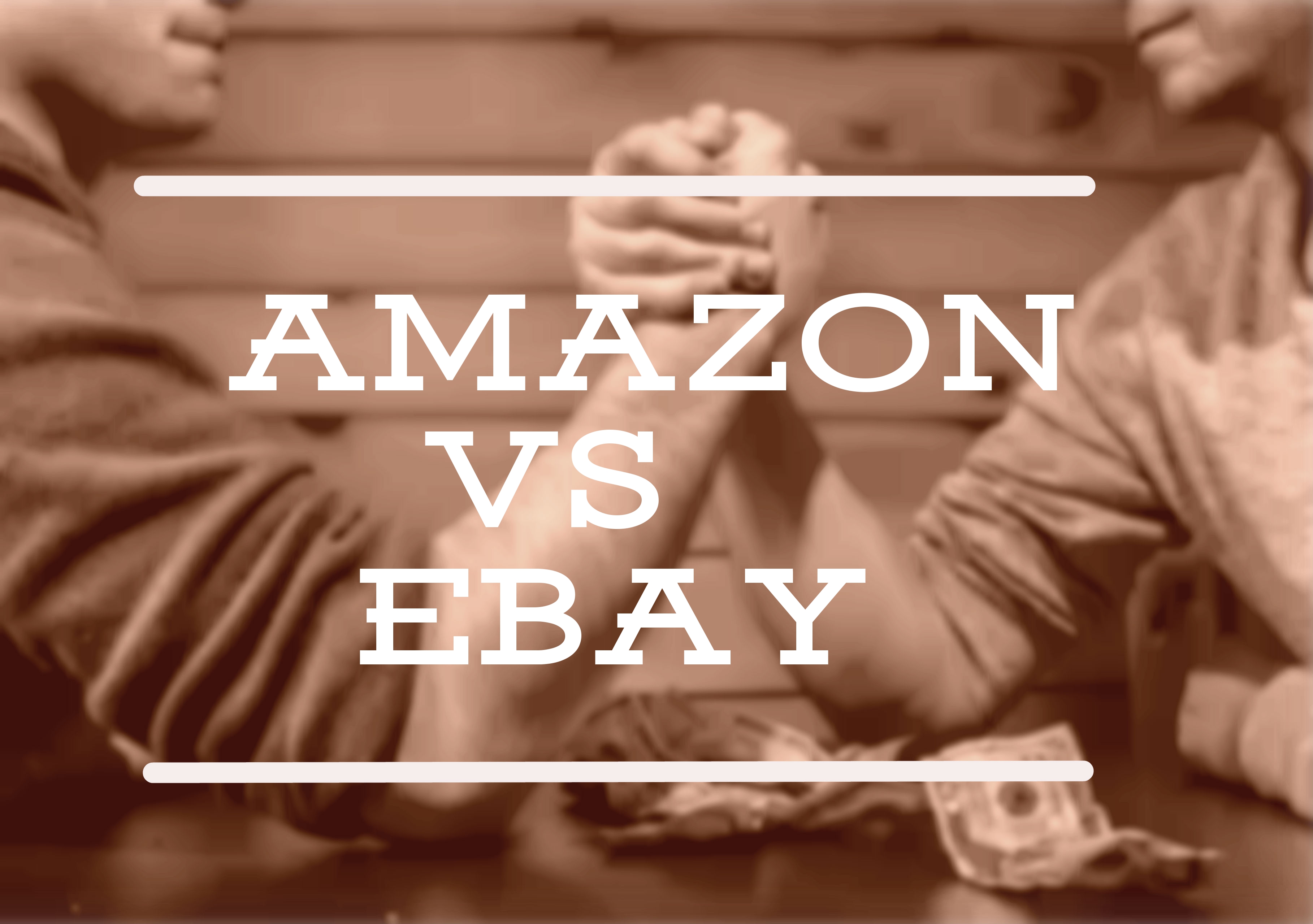 Why Amazon and eBay online marketplaces are often compared together
Short version - both are the largest marketplaces that sell products, but do it in different ways.
Amazon was launched in 1994. The company was named after the Amazon River, one of the true natural wonders, that has the largest area of its basin and the largest volume of water discharged into the ocean. Amazon was originally created for selling books only. The company has developed into a real giant in ecommerce with a great variety of products from fishing rods to guitars, from car parts to purses. The number of this website's users is as large as the number of freshwater fish species of the Amazon River and it is the largest in the world.
The cost of selling on Amazon. Amazon offers Professional and Individual plans for sellers. There are 20 categories to list products in for both plans and 10 categories that are available for Professional Sellers only after applying for Amazon permission. Professional Plan requires a monthly subscription fee of $39.99, provides the possibility to sell in three countries (the US, Canada, and Mexico), use Fulfillment by Amazon, use special promotions, customize shipping rates, and other features. Meanwhile, Individual Seller can sell not more than 40 items a month with $0.99 fee for each item sold.
eBay was founded in 1995 as an online auction aimed to C2C (consumer to consumer) business model. The company has developed greatly over the years. It has also enlarged the sphere of influence and absorbed smaller competitors. Now sellers on eBay are not just ordinary people but also companies of global renown.
The cost of selling on eBay. The situation with eBay pricing structure is a bit more complicated. All sellers have two options: to sell with eBay store and sell with no eBay store. eBay stores fall into three subscriptions - basic, premium, anchor. eBay fee calculator makes matters much easier.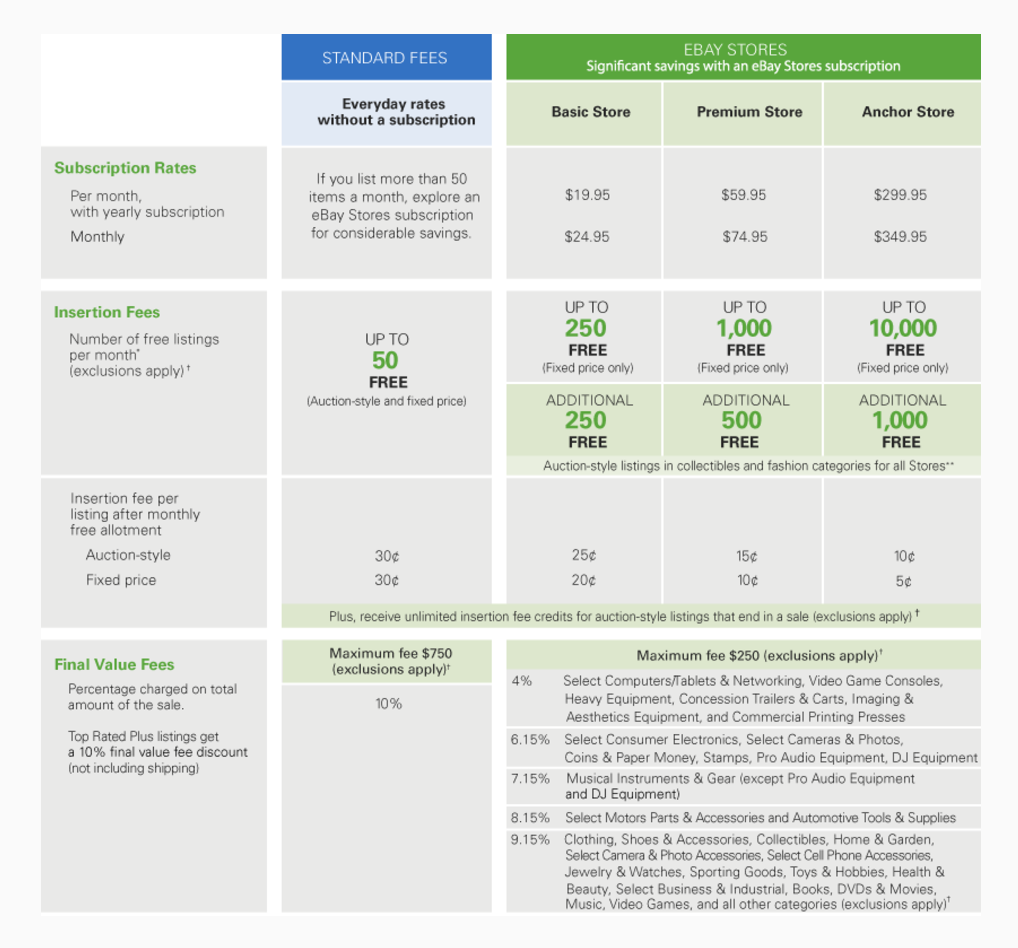 Reasons why Amazon and eBay are interesting for an e-retailer
Immediate access to huge customer base
Generating traffic to your own online storefront requires much time and effort. And still, you may be not excited with the statistics of your site visits. eBay and Amazon marketplaces will provide access to a new universe for your online store. According to statistics, Amazon lists more than 310 million active customer accounts, and eBay has more than 169 million. Start selling your products on the marketplaces to enjoy all this abundance of buyers.
Sufficient international credibility
Buyers regardless of their location are more comfortable making purchases from such trusted companies like Amazon and eBay and less likely to use unknown online storefronts. Marketplaces have been serving shoppers for quite a while a proven system. Listing your products on marketplaces will automatically create that credibility of popular marketplaces for your brand.
Additional sales channel
If there is any possibility to get a wider presence of your ecommerce website on the Internet - seize it. The easiest way to sell more is to expand new markets, which can be done by offering products through a marketplace.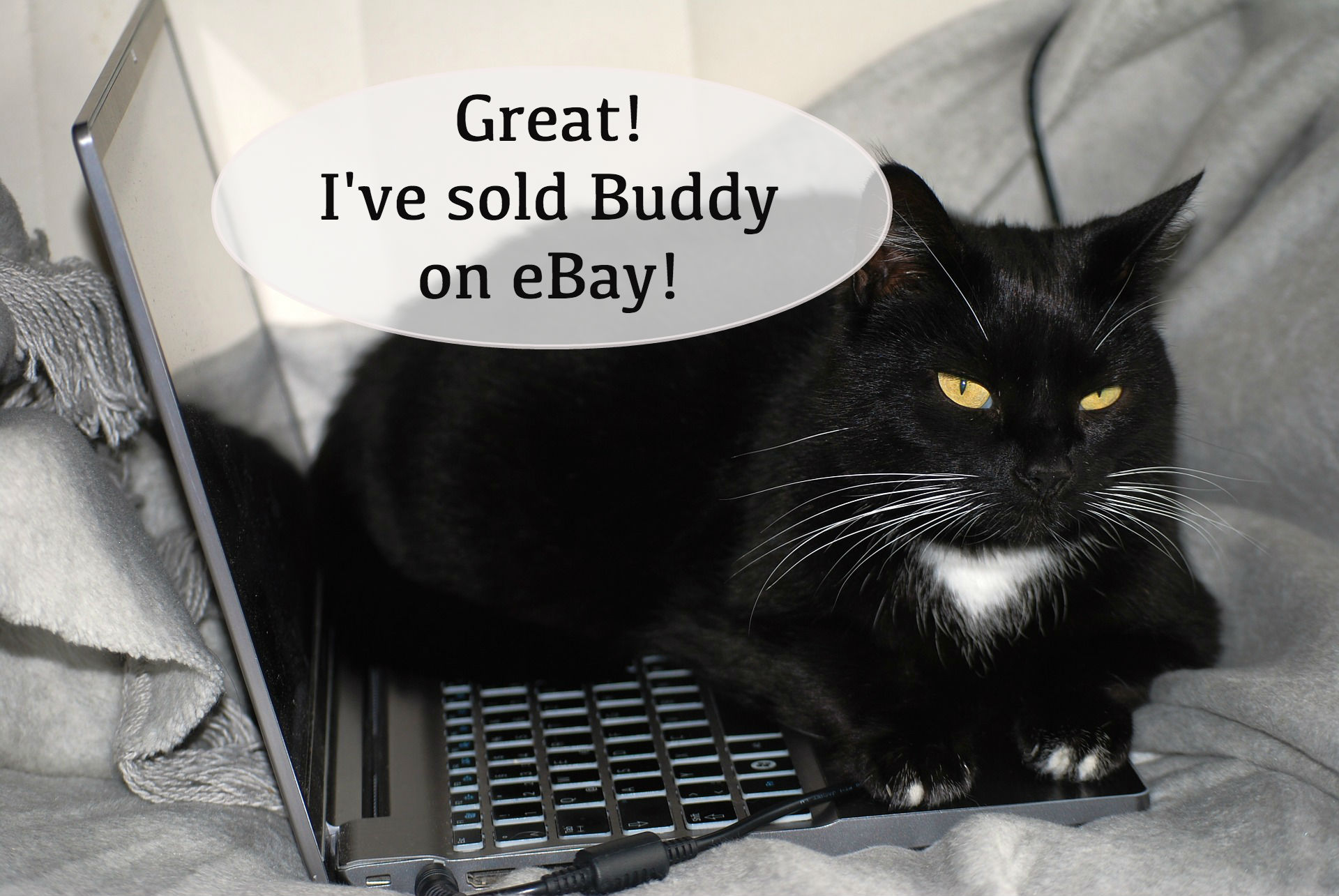 What about challenges of selling on Amazon vs eBay marketplaces?
Comparison of eBay vs Amazon: Restrictions
Each marketplace has its own requirements and rules for how an item should be listed. For example, you need to get amazon approval to sell jewelry, luggage and travel accessories, or watches. Some product categories may not accept new sellers. As for eBay, it has account limits, category limits, and item limits. So before you choose the right marketplace for your products you should clearly understand all its requirements.
Amazon vs eBay: Fees
Of course, there will be fees. Before you choose the marketplace suitable for selling your products, you should evaluate the fees to understand whether you will be still profitable after you pay the fees. Selling on Amazon you will pay a monthly subscription fee or a per-item fee depending on a selling plan, variable closing fees, and referral fees. On eBay, there are insertion fees, final value fees, free-insertion-fee listings, advanced listing upgrades fees. You need to select one of five selling formats.
Customers are the marketplace's
It should not be a surprise for you that a customer database belongs to a marketplace in contrast to an ecommerce store. Transactions between buyers and sellers are processed by marketplaces. And as a rule, customers forget the name of sellers and remember that they bought a product from Amazon or eBay.
Summary
Marketplaces, of course, are not a panacea for all problems, but they are enormously helpful for the majority of online businesses. A customer is the center of universe for a seller. And a successful businessman is a mind reader, who knows what his client needs.
Since Amazon and eBay are so popular among online shoppers, you as an ecommerce website owner should consider selling on these marketplaces. Remember, the Internet is not limited to only these two venues.