Approaching businesses!
Thursday, July 26, 2012
Grow Your Daily Deals Website
What is the best way to approach companies you want to work with? Start with finding a contact who is a decision-maker within the company, such as the owner or the General Manager. 
The next step is deciding what is the most effective way to introduce your website. E-mails, phone calls or letters of introduction, you can use one of these ideas to get your foot in the door of your next possible merchant.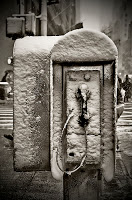 Cold Call
Picking up the telephone and calling the business is probably the most common way to introduce your company. You only have about 30 seconds to quickly explain how your daily deals site can help them build sals and grow their customer base. Make sure you have researched the company and are able to answer questions directly about them. The goals of
cold calling
are to generate enough interest so you may schedule a meeting in person. Connect with the owner and focus him on the benefits of your daily deals site.
Direct-mail
Direct mail is a more formal approach that involves sending several pieces of marketing material as part of the overall introductory. This usually begins by sending a postcard to briefly introduce your website. The next mailing might be a more detailed folder that elaborates on your website and what it can do for the merchants. The final piece of material would be a personal letter of introduction to explain your website capabilities in detail and ask for the opportunity to speak to them in person, or by phone.
Associate Referral
Having a referral from people you know are one of the best ways for meeting possible merchants. When contacting someone it is always an icebreaker to say that Mr. Jones suggested I contact you and that you might be interested in my daily deal services. If the referring person is one of your current or former merchants, ask for a written testimonial that you can show the new merchant how you helped their business.
Business Events
Business events may provide opportunities, there are usually business events that almost guarantee that possible merchants will show up. The purpose of staged business events is to make new contacts and conduct business. Seek out events possible merchants are likely to attend. Keep a calendar of when industry events and upcoming trade shows are taking place. Join business associations. 
Targeted E-mail
Sending e-mail is a less formal approach to introducing yourself to a possible merchant. Usually, this is used when you have either met the merchant previously, but do not know them well, or when using a referral from another person. The idea is a quick introduction and ask for a meeting or phone call. The advantages of sending an e-mail is that you are almost assured of getting through to the person, and you can send links or attachments with more information. The merchant can look into it when they have time. Watch out for spamming laws you don't want to become known as a spammer.
Social Introduction
Sometimes it's a good idea to show up at an evening event, or an annual charity function. These social settings are often good places to meet possible merchants who you may not otherwise have had the opportunity meet. Make a brief introduction. It is a great setting for learning more about the business of the client, and how your website can be of service. In a social setting, keep your conversation light and avoid giving a full sales pitch. Instead, suggest that you schedule a meeting to continue the conversation.