How to Start a T-Shirt Online Business
Tuesday, February 28, 2017
Why t-shirt business can make you rich
Can you name a piece of clothing as comfortable, versatile, affordable and expressive as a t-shirt is? Almost everyone has a favorite t-shirt that can be worn on any occasion - work, vacation, sports. Custom designed t-shirts can brighten up a day and make people smile. They can be a gift for a friend, a souvenir for a tourist. Or tees can show that you are a part of "the Bing Bang Theory/Star Wars/Game of Thrones/fill in your own variant" fandom. One of the reasons for a high popularity of tees is the price as a T-shirt can be bought for next to nothing. People buy t-shirts not only when it is time to upgrade their wardrobe, but more often for a particular image or interesting design which they would like to see on it. In fact, such a cotton wonder is more than just a tee. It is a huge field for experimentation.
Why you should start online
It is vital for any business to expand continuously and look to the future since the global market has changed much. The Internet is a very effective channel to market any product and by selling t-shirts online you are moving with the times. It is easier to start an online business rather than offline. You can do without huge storage space and employed staff when it comes to running a virtual storefront which works in all country or throughout the world and it is open 24/7. Do yourself a favor, choose hosted ecommerce solutions, because they make selling t-shirts much easier. It doesn't take plenty of money to launch an exciting online business venture and proceed it further. Your own e-commerce website will give you an idea of how online t-shirt market runs.
Guidance on how to start a t-shirt business
Think again - is this business something you actually want to be doing night and day, working days and holidays? If so, you are doubly lucky as a t-shirt business will give a lot of fun and joy both - you and your customers.
Setting goals in business matters most. And t-shirt business is not an exception. You have to clearly understand where you are and where you want to be. Now it is time to brainstorm your ideas. What equipment do you have? What tees do you prefer - colored, black or white? For whom are your t-shirts? The more questions you ask the more ideas you will get on what to do next. Here is the list of some questions that should be answered before you start.
Have you determined your customer?
The information that you offer t-shirts for all tastes is only boring facts for a customer. Generate emotions! Because an emotion is like a bait for fish hook. The design that triggers an audience will resonate. We all have a passion that absorbs our free time. The list of hobbies is endless. Look into your wardrobe and try to remember where and why you purchased this or that printed t-shirt. Was it a funny text or image that made you buy a T-shirt?
That is why it is better to bet on some audience which is fuelled by passion. A man wearing a custom t-shirt takes pride of belonging to an interest group and shows his expertise in some field (he is keen on horseback riding or he is a huge fan of some band, a fan of the series, and so on).
T-shirts that are used as working clothing, a corporate, a club or a sports form on which logotypes, titles of positions and names are printed can also be emotional. How can one hide in a wardrobe a tee with two funny tiger-striped cats talking on the phone? This is an advertisement of some cellular service, but so what? Anyway, it is a cool tee.
T-shirt design ideas
Designing t-shirts' prints has become one of the most popular creativities. And like every creative process it requires a certain amount of effort in addition to inspiration. As far as you've identified your target customer it's time to decide on an idea. Is it a graphic or text only tee? Or maybe both? Keep up with the trends to create something people would like to wear. Go through all possible things, words, images associated with your idea. Give all ideas a voice and then choose the most promising one.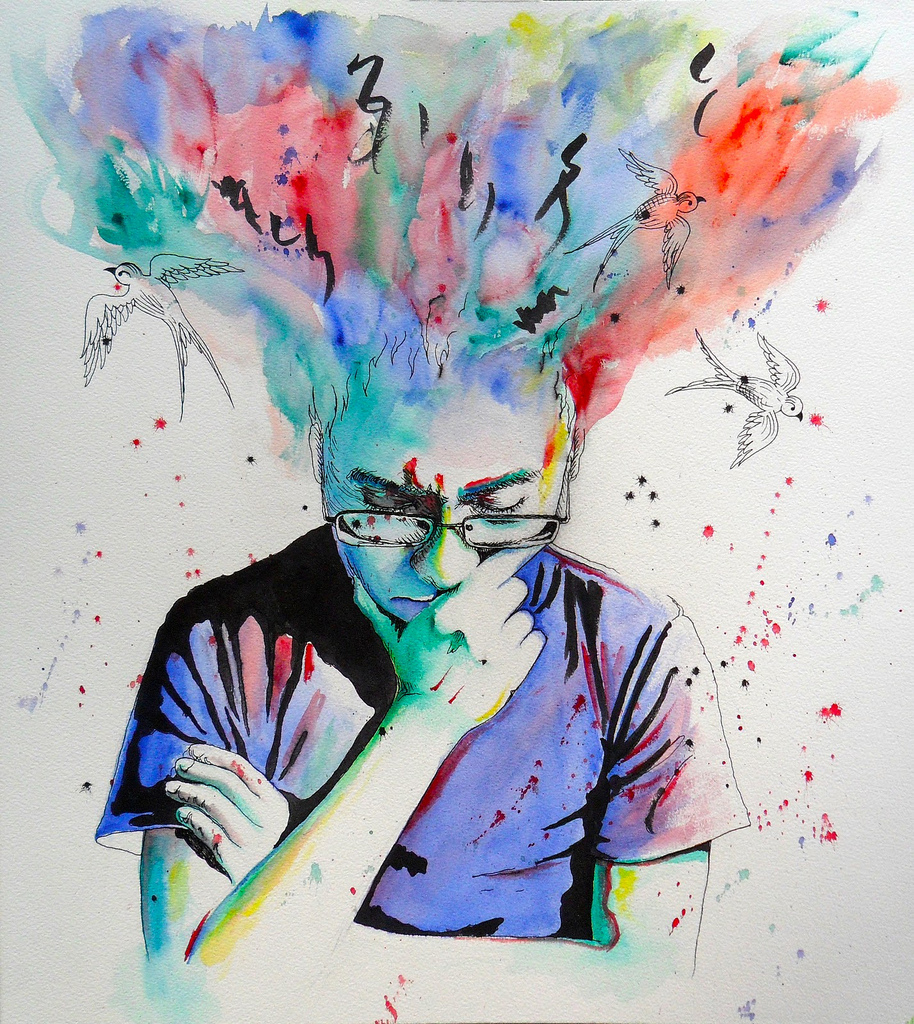 There is another way. There are dozens of freelance designers on the internet. You can run design contests or hire an artist who will put your ideas on paper.
Here is what you should remember:
Avoid direct quotes from movies or songs. This is an infringement of copyright.
You can't sell t-shirts with photos of people without their consent.
Pictures from cartoons, movies, clips, comics are also plagiarism.
Your design should be scalable for different sizes.
What is your t-shirt printing method?
Whether you are an e-commerce beginner just entering an online t-shirt business and looking for the ways of outsourcing t-shirt printing or you are a successful businessman who is going to purchase your own printing machine, you need to get some glimpse of the present technological capabilities.
Screen printing (a.k.a. silk printing, serigraphy)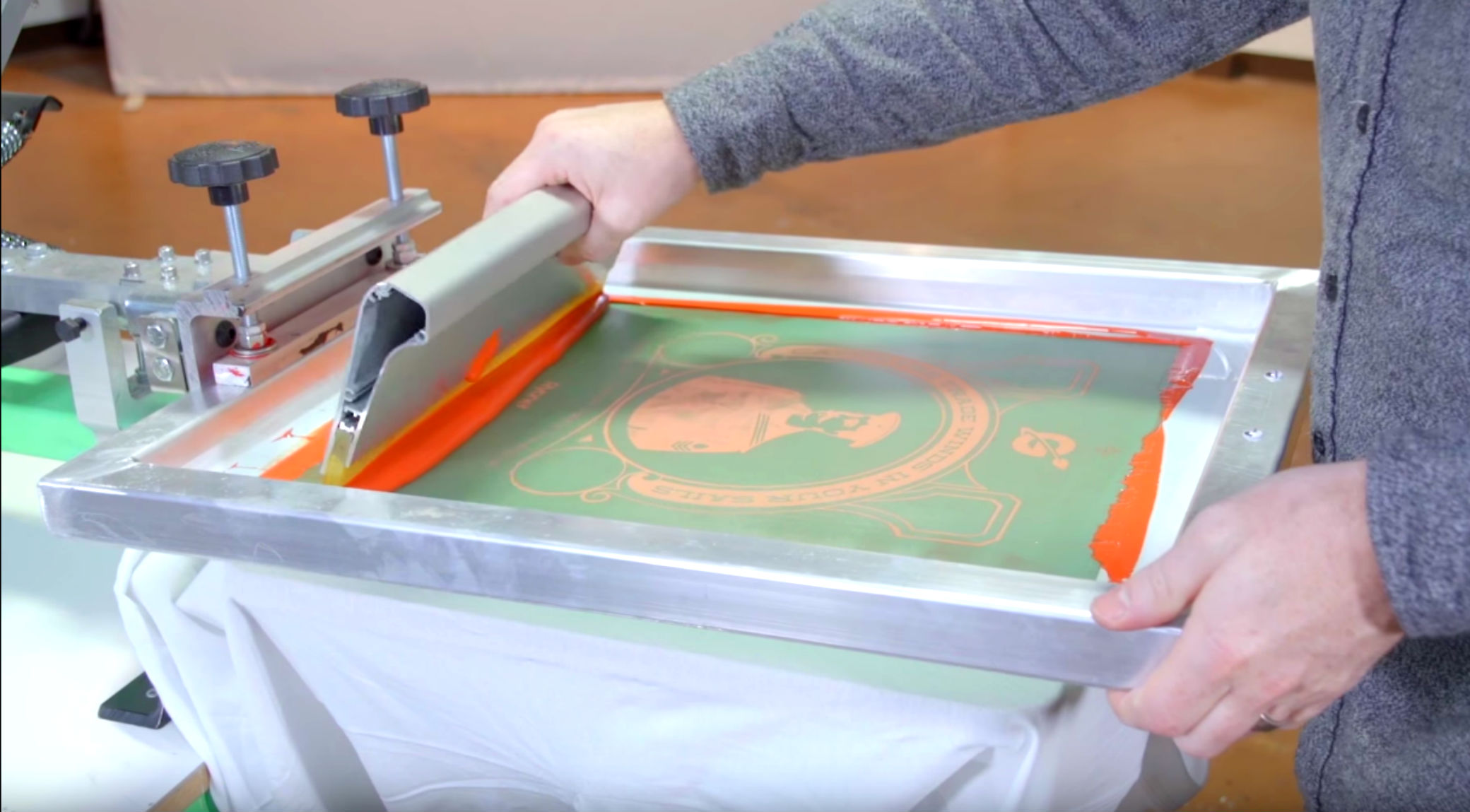 What this technology is about is in transferring inks onto fabric, excluding in areas that are blocked by a stencil. It is the preferred method for printing in bulk, most often it is used for the number of 50-100000 items or even more. Screen printing makes it possible to produce t-shirts with prints resistant to degradation and of full-color as well as simple monochrome. Starting with 200 pieces and more the technology allows low-cost of production, which helped it to spread and gain the market.
There are two types of inks - plastisol and water based. Inks may have different effects on a fabric like glittering, creating 3D effects, bleaching - printing on dark background fabrics by removing the dye.
Advantages:
Creates durable graphics.
Vivid colors.
The more items the cheaper.
Disadvantages:
It is difficult to create small details.
Different screen for each color.
Long preparation times.
Impractical for printing a single item.
Equipment is big.
Limited palette.
Digital garment printing (a.k.a. DTG, direct-to-garment printing, apparel printing)
A T-shirt design is printed from the computer directly onto a t-shirt by a highly modified printer with special garment inks. The heat press completes the process. Current models of printers are doing well with printing bright and detailed images with an infinitive amount of colors on both dark and light colored garments. It is best for the production of a small quantity of tees or one-offs.
Advantages:
Full color and photographic prints.
An unlimited number of colors.
Easy to train employees.
The soft feel of a print.
Personalization of garments in a matter of minutes.
Disadvantages:
Slow times for printing.
Ink costs.
Heat printing
The process of printing of images on the surface using intermediate transfers with a heat-sensitive adhesive on one side (special paper with a plastisol based ink) is called heat printing. The design is printed onto a material.
Advantages:
The fastest and cheapest method as comparing to DTG and serigraphy.
No minimal order.
Small quantities are possible.
High details.
The smallest initial investment.
The process is simple.
Disadvantages:
Cracks and peels of the transfer with time.
Lasts around 50 washes.
The unnatural feel of the imprint.
Marketing
By now you already know WHAT kind of tee-shirts and to WHOM you are going to sell. Now there is one thing left and it is to find out HOW are you going to sell your t-shirts. This part of our article is focused on marketing. We understand that within a separate section of the article it's unlikely to speak about all the nuances of marketing. Give a direction of marketing strategy.
Marketing is all about letting people know what your business is and how it could be of some use to customers. Here is some things that are worth of exploring:
Building a brand will help to distinguish your business from others that sell t-shirts. A brand is an intangible sum of properties of a product: name, package, its history. It is also a combination of the impression that the product makes on a consumer.

Choosing a domain name which must associate with your business in order to get more targeted shoppers. Stick to the T-shirts designs that you offer.

Find out all channels of free information which your customers may use: social media sites, fashion communities, forums.

All content on your site or page in social networks should have niche hashtags, keywords. Spend time on filling in descriptions and adding nice photos of your t-shirts.
Nowadays, at the time of easily accessible internet and widespread social networks, t-shirts are still one of the ways of self-expression. The right to wear a custom tee is determined by internal circumstances: casualness, directness, open-mindedness. In other words, a custom shirt is about of not being afraid of doing something wrong. Last but not least: adjust your priorities and plans but never give up!