"The future of business is social." ~Barry Libert
Wednesday, October 16, 2013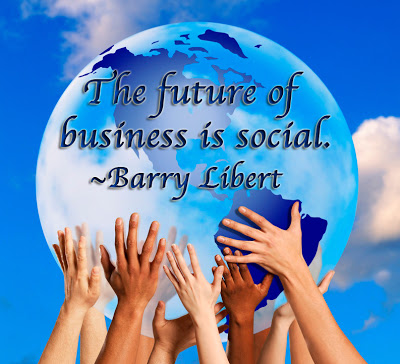 In our days every business, whether it is a coffeehouse or a high tech company needs a wide social presence. Social media has become a powerful information resource which efficiency is recognized by both private and
commercial
customers. People use social networks to research products and brands, exchange opinions and experiences. They get used to it more and more. Even the older generation has already mastered new social technologies and apps.
People do not go shopping, do not visit the hairdresser and can't choose a place to spend their vacation without asking opinion of their virtual friends on Facebook or other social services. Besides, they less frequently go outside and prefer to order food, clothes and other products online. So, the brightest outdoor advertising may go unnoticed if consumers make purchases from home. At the same time, social networking platforms represent great advertising options. A targeted Ad on Facebook may reach a potential customer right in the moment when he or she is evaluating a purchase decision.
Companies also extensively use social media channels for their business needs. Social media provides rich opportunities to interact with customers, monitor consumer behaviour, establish business contacts, research competitors, raise brand awareness run advertising campaigns and promotions. Social networks is not just a place to make friends and share funny photos. It has become a vital element of growing business exposure. In the near future, it may happen that the businesses, that are not presented in social space, may go out of sight of their potential customers and business partners. So, get social before time runs out!