Start a Deal Website - Turn Your Dream Into Profit!
Wednesday, April 17, 2013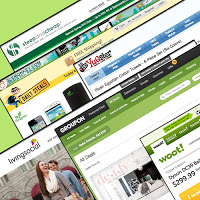 The spirit of commerce dwells in human hearts since ancient times. Every person has some creative abilities and everyone has an entrepreneurial streak. Most of people work for someone else all their lives and realise their commercial potential by building a career and by taking charge, e.g. receiving salary, for the job they do. From time to time everybody dreams about starting his or her own business. Unfortunately, these dreams are often refused because of numerous arrangements and big money needed to start up.
The age of the Internet and eCommerce opened up new opportunities for entrepreneurs. However, a person, who wants to start an online business, faces many problems. Apart from organizational issues related to establishing any new business, each e-businessman have to find way to solve various accompanying tasks, such as creating a website, looking for a reliable hosting service, hiring programmers for maintenance and further development of a site, configuring payment gateways and many others. All these require substantial investments and technical knowledge which are not always available for small businessmen.
Starting a deal website is one of the easiest and cheapest ways to enter eCommerce business. That is why this form of commerce is suitable for small businesses which do not possess big financial assets for start-up funding. The concept of daily deals gained popularity almost 10 years ago after launching of Woot, LivingSocial and other deal-of-the-day services. The daily deal industry rapidly expanded across the world and proved its efficiency and financial viability. Now the process of launching a daily deal website has become easy accessible and fast. There are ecommerce software platforms, such as Getsocio.com, designed for building deal websites. These platforms provide all technical facilities for starting fully functioning deal sites instantly and at an affordable price.
Online deals site is a self-sufficient eCommerce business model which allows to generate a stable income. At the same time deal website may be used as an effective marketing solution for almost any kind of business. So, if you don't want to focus solely on selling coupons or deals and prefer to start an online store or any other kind of business, a deal website may serve as a powerful promotional tool for your main business line.
Follow your dream, start and develop your online business with Getsocio!