Last Minute Tips to Boost Your Ecommerce Sales This Holiday Season
Friday, November 29, 2013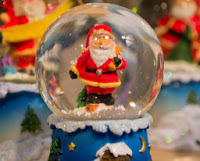 Thanksgiving marks the beginning of the holiday sales rush and every merchant wants to be on the top of all shoppers' wish lists. Recent holiday shopping surveys show that consumers are getting tired of crowded stores and waiting in long lines. More and more people prefer to stay at home and shop via the Internet. Even those who still like in-st
ore shopping frequently use mobile devices to compare prices and track down discounts or coupons. Thousands of webstores, online shopping portals, digital coupon and deal sites are fully staffed and geared up to meet the onslaught of customers. How to break competition
and get the most benefits of this festive season? Here are some ideas that can help you to spur online sales and engagement during this busiest shopping time of the year.
Promote Your Popular Products, Not Just Gifts.
According to the Nielsen's 2013 Holiday Spending Forecast, gift cards, tech products, toys, food, apparel, video games, cookware, sporting goods, jewelry and alcoholic beverages are expected to be the most popular categories this holiday season. Another important point is that buying gifts is not the only purpose of shopping on holidays, about half of purchases on Black Friday are from people buying things for themselves. So, don't focus solely on gifts but promote also other popular items that people buy all the year round for themselves.
Optimize Your Website and Promotions for Holidays.
Hot holiday season may not be a good time for major technical updates or rolling out a brand new design for your entire website but adding some festive glitz to your homepage, product offers and blog posts can help to lure shoppers in. Try to avoid small tricky issues that may confuse your potential buyers. Make sure that your site loads fast, test your landing pages, product galleries, sign up pages, coupon codes, etc. Always double check your social media posts, newsletters, promotional emails so that they look complete, professional and
accurate.
Good Timing is Essential For Your Holiday Promotions.
Prepare your holiday promotions - newsletters, emails, posts on social networks and online Ads - beforehand and schedule them to be delivered to your customers at the most opportune time. It is believed that people tend to check their emails in the morning but emails received in the afternoon have better unique open and click through rates. The best time to send holiday promotional emails is between 5pm and 7pm. If you are investing in social platforms, such as Facebook and Twitter, it is also necessary to
find out the best times to post to get the most engagement from your
prospective buyers.
Discounts, Coupons and Freebies.
Consumers are eagerly awaiting deep discounts and free offers at this time of year. Appeal to their wallets by offering special holiday prices, daily deals and coupons. Send exclusive promotions and deals to your repeat customers and social media followers. This can help build loyalty and generate buzz around your brand. Another great marketing technique is offering free gifts. A new study in the
Journal of Consumer Research
suggests that discounted prices may devalue products, especially when it comes to high-end goods. At the same time, free offers may not downgrade products at all. Offering a free item with a required purchase of a prestigious product may even increase the estimation of its value. So, consumers may value freebies more than deeply discounted products and giving away some free items appears to be a good idea.
Consumers love free shipping! Shipping cost is a critical factor that may lead consumers to your website or drive them away. According to a Google Consumer Survey, if there is a shipping charge nearly half of online shoppers will try to find the item on a website that offers free shipping. Many consumers appreciate free shipping more than wide selection of goods and low prices. Free shipping option is a luring bait that may bring shoppers back to your site again and would induce them to recommend your website to other people.
So, think of adding free shipping to yo
ur holiday promotions. If you combine it with other holiday discounts and offers that would entice consumers to your website even more.