Download coupons instantly
Wednesday, June 25, 2014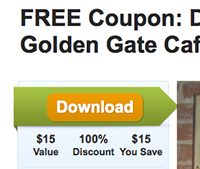 The procedure of purchasing online is supposed to require as minimum time and resources from customer as possible. It is very important to minimize time spent on purchasing pages to make sure that customer will not get bored and will not change his/her mind. This is the strategy that GetSocio sticks to. We put our efforts to not loose the customer on the purchasing pages, to not waste buyer's time and let him/her make the purchase as quickly as possible. 
A new update is now available for businesses who offer coupons on their GetSocio sites: possibility to instantly download the free coupon directly from the deal page.
Previously the process of buying free coupons was similar to regular coupons with certain cost: the customer had to click Buy button first, choose quantity, confirm the order and after that check his/her e-mail inbox for the link to download free coupon.
Now this process is as simple as it can be: user should click Download button on free coupon deal and the download will start automatically.
This improvement is also very helpful to distinguish such deal among others and thus attract customer's attention. Moreover, business owner can even create a dedicated category for free coupons and post such deal to it.