Deal slide-show available!
Wednesday, March 7, 2012
This is the most visually impressive update for the past couple of months. What is it?
It is the option to upload multiple images per deal and when the deal is published, they will be beautifully interchanging on the main page, which will have a "snowball effect" on your sales. Image slide-show is a way to liven up the things on your site and to lure the users into buying more through appealing to their emotions.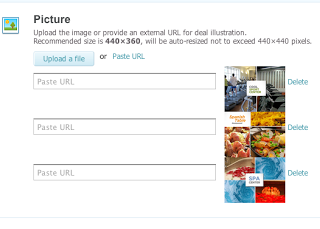 It's been proven the color effects often influence the buying decision as well as different colors attract different types of buyers. The slide show feature allows to create different "color-emotion" anchors for various kinds of buyers without affecting overall design of the site. Also slide show can tell a whole story "the product/establishment → the goodies it provides → the process of using it". Especially useful slide-show comes for multi-option deals, where each product can have it's own picture or two.
It doesn't take any tweaks from you to set this up. Just prepare the images, then when publishing a deal upload them one after another, the rest of job is done by the system. Though if you have some awesome collage or another breath-taking image that you do not want to be mixed with others, you don't need to disable anything, simply upload only one image and that's it.
AANSBXQMQQB7