Grouping through the Holiday Season
Friday, November 26, 2010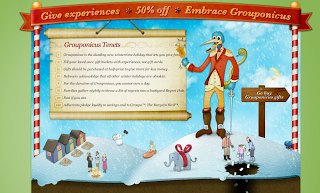 Some time ago the group-buying juggernaut Groupon has launched a special "holiday" service named Grouponicus. Groupon has already established itself as the place to purchase gifts. Why would they need a special holiday store and what kind of use is it going to bring?
The upcoming Christmas Eve is going to bring more shoppers,
some observers assume that Groupon is afraid to get down under this flood
. However, it is more likely that the visitor abundance is not the case. The major reason to introduce Grouponicus is to evade the once set strict rule "one day – one deal"
Groupon wishes to catch up with those, who tend to miss the deals.
With the store of deals available through a couple of weeks, everyone can sleep on the purchase before making it. Besides Grouponicus has a preview "soon-to-be-available" deals. This makes them pretty hard to miss even if one wants to.
Remembering the old marketing rule "selling emotions is much more profitable than selling commodity" Groupon didn't forget about the entertainment. The holiday store has another mascot – Groupo, a dandy snake-tailed Bargain Bird. Groupo has its own whimsical illustrated story and amusing customs to mystify the quite ordinary process of a Christmas sale.
Notably Grouponicus has the fixed discount rate of 50%, which is not a practice on the regular Groupon deals.
This is a good market segregation example and the best example to evade the rules set by your own self. If the strategy you adopted on your daily-deal website is too narrow for you, why not to expand it by launching a specialized deal store inside of your website devoted to Mother's Day or a certain theme? Quite a space for imagination!